27 Jul 2013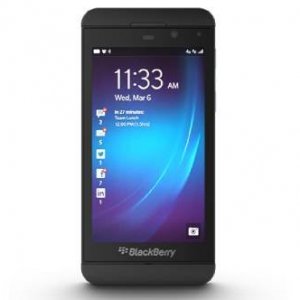 The BlackBerry Z10 is the new phone that is brought to the modern mobile platform offering some of the best features that were not available in the earlier versions. This is a phone that is completely different that includes powerful apps and there are plenty of advantages with its physical design and also in its operations. Beginning from the display of the phone that is soft in touch giving a feeling of black plastic or metal on the top and bottom edges, there are no buttons on the front panel of the phone, but there is microphone under the mirrored BlackBerry logo at the bottom edge of the display. While the top edge has a speaker, status LED and a front facing camera, BlackBerry Z10 slides easily in hand and offers a quality feel.
Being available in black and white colors, it carries BlackBerry 10 OS having a processor Dual Core 1.5 GHz, 2GB RAM, 16 GB Flash and a removable microSD, memory card upto 32GB. Giving a display of 4.2" 768x1280 resolution 355 PPI, the 15:9 aspect ratio, rear camera 8 mega pixel auto-focus camera, Wi-Fi and Bluetooth, the size and height of BlackBerry Z10 is weighing up to 137.5g.
Navigating through the Z10 feels wonderful as you load apps, scroll through lists and also load web pages. Battery life is very good and there is plenty of scope to text messages, go for email check and also play games. Getting access to social media and checking facebook message and posts offers a great convenience to get quick updates. With the convenience to check gmail regularly, working much faster and getting quick replies to the new messages is a wonderful speedy convenience.
Even while on the move or in travel, browsing, navigating for the maps or checking inbox is made much portable and this is the finest convenience for the purpose of easy communication with the medium of smartphone. Working with the phone, will explore many new features and external arrangements that will bring in lot of excitement for you. This is definitely one of the finest phones that is ever introduced into the market with the fact that it is so powerfully built for the easy working of the user and it guarantees long lasting service. As it is too easy to work with, surely this is one of the most user-friendly phone that has received lot of demands from the smartphone users.