27 Jul 2013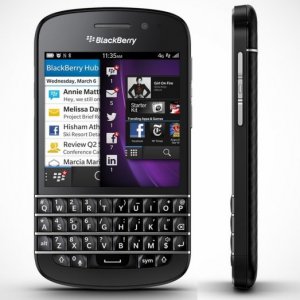 BlackBerry Q10 is a beautifully designed phone that offers plenty of advanced features. This is a classic Blackberry design that carries BB10 software, a 3.1-inch super AMOLED screen, dual core processor and a 8-mega pixel camera along with bold screen, exceptionally good keyboard and a perfect battery life.
With physical keyboard available on Q10, this is a very good Qwerty keyboard phone with comfortable bright and bold AMOLED screen. The advantage of Qwerty keyboard on blackberry with all physical keys, this is the best phone that comes as refreshing.
It is true that the advantage of keyboard arranged in Q10 is always highlighting the performance of Blackberry, the 120mm long and 67mm wide will enable a great convenience to work and navigate through very easily.
The Q10 runs on the latest BlackBerry 10 OS and there are plenty of touch-based gestures that guarantee lot of efficient performance. The keys, side buttons offer lot of luxurious touch and it is tailored.
The arrangement of micro-USB port that is used for both charging and data transfer between a computer and an HDMI-out port, will enable easy to hook your phone to the bigger screen or a projector. It works perfectly and especially when you have to show apps or web pages in an office meeting, this is very handy working very efficiently. The built in storage of 16GB and the Micro SD card slot under the back panel, 3.1 inch display, 720x720 pixel affair and the 4x4 grid of multi-tasking tiles make the blackberry Q10 very smart and the brilliant videos offer lot of clarity and perfect sound. The specialty of Blackberry 10 software is similar to Z10 working with greatest interface from blackberry and the entire arrangement of display, multi-tasking panel and all features, create a visually appealing interface.
Being a Smartphone, the app store gives plenty of access to latest games and other services. With 1.5 GHz dual-core processor along with 2GB RAM, battery that has 2,100 mAh affair with 13.5 hrs of 3G talk time with other conveniences of video streaming, games and other tasks, this is definitely most appealingly designed smart phone. The built-in 8 mega pixel camera that offer 1:1 ratio the image shots are perfect to view.
With several advantages and features BlackBerry Q10 is simply one of the most beautifully and most powerfully designed smart phone that guarantees lot of service and excellent management of the phone.