13 Sep 2014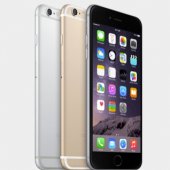 Apple iPhone 6 : Review
iOS 8
4G (LTE)
A8 chip with 64-bit Architecture
8 megapixel iSight Camera
5.5 inches (iPhone 6 plus) / 4.7 inches (iPhone 6), LED-backlit IPS LCD
1GB RAM
Finger print scanner
16GB / 64GB / 128GB
Silver / Gold / Space Gray
Design:
The new iPhone 6 has designed in an attractive way to the lovers of Apple iPhones'. Apple iPhone is designed with Retina HD display with a soft metal surface. Apple iPhone 6 is 4.7 display large in size. And also Apple iPhone 6 is 64 bit desktop mode. Apple iPhone 6 came with variety of colors like silver, gold and grey color.
Security
Apple iPhone 6 is highly secured with a hand touch password system and it is very useful to the iPhone 6 users. This touch id technology in the new iPhone 6 makes the users to keep a perfect password system in the mobile phone.
Camera
Apple iPhone 6 has a powerful camera to capture better photos and videos with good clarity. Apple iPhone 6 has 8 MP , 3264 x 2448 pixels with dual LED flash system makes the images and videos looks more beautiful. This iPhone 6 camera has 1334 x 750 resolution.
Battery
Apple iPhone 6 came with 2,100mAh battery which may remain for more than 16 hours a day. The good condition of the battery in Apple iPhone 6 helps the users to use Wi-Fi and browsing videos for a long time in a day.
Price and Availability
Apple iPhone 6 was released on September 27, 2014 onwards. The price starts from 2,599 AED for 16 GB.