Will Apple trade in ploy for iPhone 5S spell doom for Samsung Galaxy S4
09 Jun 2013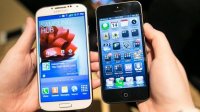 Apple Inc. (NASDAQ:AAPL) doesn't like losing – and lately, it's been losing both market share as well as market cap to Samsung Electronics' (NASDAQ:SSNLF) Galaxy S4.
So while it should ideally do what it does best – bring out a killer version of the iPhone loaded with features to stand head-and-shoulders above competition – sadly, that might not nearly be enough to propel Apple back to the top echelon on the smartphones leader-board.
And that's because not only has Apple lost some of its passion for innovation due to the unfortunate death of its co-founder Steve Jobs back in 2011, but also because the Cupertino-based company has been a victim of its own success.
The runaway popularity of its iPhone has spawned a global race for smartphone dominance, with a number of other big international mobile-makers not only catching up with it, but in some cases also leaving it behind with their features-loaded offerings and/or marketing prowess.
The past couple of years have seen a plethora of self-confessed 'iPhone-killers' being launched in the market by a number of global firms, all with the sole aim of wresting market share from the leader. Obviously this had to, someday, have an impact on the leader. It has now.
In fact, with Samsung deciding to take the smartphones battle to Apple's home-turf by launching the Galaxy S4 in New York, it was only a matter of time before Samsung managed to break into Apple's oldest and most lucrative market, the US.