Tune in on the 22nd – live from Nokia World Abu Dhabi
12 Oct 2013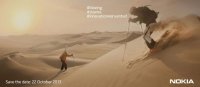 As we reported a couple of weeks ago, there's a Nokia press event taking place on the 22ndOctober in Abu Dhabi, UAE.
The press conference will start at 8am UK time (that's 11am Abu Dhabi time). And the webcast from the event will be broadcast right here on Conversations, so that you can watch the action on your screen of choice!
This time around we also have an extra treat in the form of a second round of webcasts, after the main announcement.