Samsung Galaxy S3 vs iPhone 5 vs LG Nexus 4
16 Jun 2013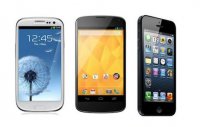 Three excellent devices released into the market last year were the LG Nexus 4, the Apple iPhone 5 and the Samsung Galaxy S3. They are popular devices today as we hang around for new handsets, which include the HTC One and Samsung Galaxy S4.
The LG Nexus 4 comes with a quad-core 1.5GHz processor, while this is a 1.2GHz dual core on the Apple iPhone 5; the international version of the Samsung Galaxy S3 boasts the quad-core processor. However the handset in the US is dual cores. The Apple iPhone 5 is the slowest of the handsets, however it does have twice the speed of the iPhone 4S. The LG Nexus 4 comes packed with the quad-core processor and it has 2GB of RAM. The Samsung Galaxy S3 also has the quad-core processor but it only has1GB of RAM. The Samsung Galaxy S3 is the winner here.
The LG Nexus 4 offers Jelly Bean 4.2, while the Samsung Galaxy S3 came out with ICS but has got an update to Jelly Bean 4.1; the Apple iPhone runs on iOS 6. iOS is known to be the most streamlined, however for customisation Android is the winner. The LG Nexus 4 will get updated first and therefore you choice could be this or the Apple iPhone 5.
Samsung Galaxy S3 Spec, Photos & Price in Dubai
iPhone 5 Spec, Photos & Price in Dubai