Samsung Galaxy Note 8 Video
13 Jun 2013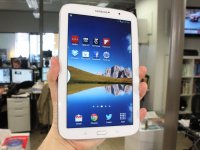 Samsung Galaxy Note 8.0 Tablet Provides Endless Work, Entertainment Possibilities
In this Mobile Minute, we take a look at features and specifications of the Samsung Galaxy Note 8. Learn about WatchON television and video recommendation service, along with several other new features.
the U.S. leader in 4G LTE-connected tablets, and Samsung Telecommunications America (Samsung Mobile) announced today the addition of the Samsung Galaxy Note® 8.0 to AT&T's portfolio of connected products. The 4G LTE-connected Galaxy Note 8.0 will be available exclusively with AT&T in the coming weeks.
The Galaxy Note 8.0 runs on AT&T 4G LTE, which currently covers more than 200 million people in the U.S.; with plans to expand to cover 300 million people by the end of 2014. In a report by independent testing organization RootMetrics, AT&T's 4G LTE network was called "blazing fast." The report found AT&T's 4G LTE network delivered the fastest pure LTE speeds in markets where AT&T provided 4G LTE**.