Samsung Galaxy Note 8.0 Available For $199.99 with Smartphone Bundle
18 Jun 2013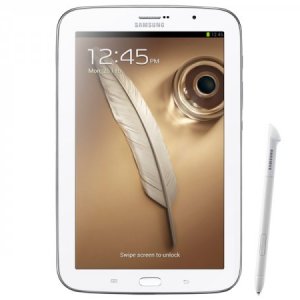 You might think that the latest 4G LTE-connect tablet will be priced out of your reach, but I'm excited to share that AT&T is launching the Samsung Galaxy Note 8.0 for $399.99 with a two-year agreement on June 21.
Even better, customers can bundle the tablet and plan with a Samsung Galaxy S® 4, Samsung Galaxy S® 4 Active™, or Samsung Galaxy Note® II smartphone and receive the Galaxy Note 8.0 for just $199.99!
AT&T is the leading provider of 4G LTE-connected tablets and the powerful Galaxy Note 8.0 is the latest tablet to reach our stores. It has a blazing fast 1.6 GHz quad core processor, as well as a 4,600 mAh battery. It runs on Android 4.1 (Jelly Bean) and has an eight inch HD quality display that offers a clear, true-to-life picture.
The Galaxy Note 8.0 has several new work-friendly features including SAFE™ (Samsung for Enterprise) technology, which helps to ensure a secure work environment whether you're at the office, on the road, or at home. Polaris™ Office makes it easier to view, create and edit documents, spreadsheets and presentations right on their tablet. Air View™ allows users to preview emails, calendar events, photos and videos just by hovering over the screen with the S Pen™.
There are a variety of entertainment features on the Galaxy Note 8.0 as well, including the new search and recommendation service WatchON™, which makes personalized recommendations for new movies and TV shows from multiple content sources such as live TV, YouTube, and streaming video-on-demand sources. If you'd rather curl up with a good book, the new Reading Mode creates a comfortable reading experience in all lighting conditions.