Preinstalled BBM, free voice calls on iPhone and Android
26 Dec 2013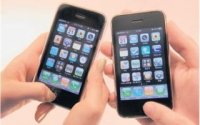 BBM Voice for iPhone and Android in 2014
For all BBM fans out there, here's some good news. First, as you might have guessed, BBM for Android and iPhone has been downloaded tens of millions of times. This means that BlackBerry is now ready to roll out the next feature – BBM Voice for iPhone and Android – in 2014. And it's been confirmed by none other than Sean Hungerford, head of Product Management for BBM.
"We haven't slowed down since launching BBM for iPhone and Android in October and BBM Channels for BlackBerry 10 and BBOS in November. We've been working on some new ways to make it faster and easier to share with your BBM contacts. Whether it's talking with BBM Voice, connecting over a BBM Channel, sending a quick photo, or even sharing your location, there's more to BBM than just chatting," he wrote on the official BlackBerry blog
Top of the list is BBM for iPhone and Android. "Or as I like to say, free voice calls to any BBM contact anywhere in the world," writes Hungerford. "Just another way that BBM helps to bring you together with people when you can't be there in person – without having to pay long distance charges," he noted. Great! So when is it coming? He's not saying, but since it's coming 2014, we can wait another few months, if it comes to that.