Moto X smartphone gets confirmed for assembly in the USA and will launch by October
30 May 2013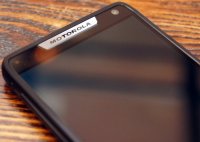 Motorola's CEO confirmed the rumors that the Moto X is indeed real and will launch by October. It's being made in a Texas plant previously used by Nokia.
Motorola, now owned by Google, has been rolling out solid Droid RAZR products for Verizon over the last year, but there have been rumors of an "X" phone for several months. As reported by The Verge, Motorola's CEO Dennis Woodside confirmed that the Moto X is indeed a real project and he actually had one in his pocket on the stage at the D11 event in California.
Mr. Woodside didn't reveal any details of the Moto X except to say it will have an OLED display, be made in the USA, and have some advanced intelligence to help you manage your life more efficiently. They are planning to build the Moto X in a large facility in Texas previously used by Nokia to make smarphones. Some components will come from Asian facilities, but the intent is to have a made in the USA phone.