LG sends out August 7 NYC press invite as G2 images leak
08 Jul 2013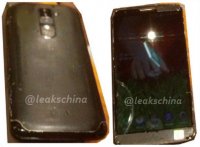 A few weeks back the folks from LG announced August 7th they'd be holding amedia event, where they'll likely be announcing their new flagship Optimus G2 (or just G2) smartphone. Today, they've sent out formal invites for a press only event on August 7th in New York City. At the same time, we've just received another image of the unannounced LG G2 in the wild.
In case the image above wasn't clear enough for anyone. LG made sure to highlight and make extra large the "G" and tossed in a 2 for good measure. If anyone was doubting we'll see their next flagship smartphone, this basically tells us all we needed to know.
At this point everything is a rumor, but the phone is shaping up to be their best yet. With a 5.5-inch 1080p HD display, and the first device to ship with Qualcomm's impressive 2.3 Ghz quad-core Snapdragon 800 on board. Add in 2 (or maybe 3GB) of RAM, tons of internal storage and a 13 megapixel camera with image stabilization. Right? Sounds pretty nice.