LG Optimus L9 II with 4.7-inch display, 1.4GHz processor launched
27 Aug 2013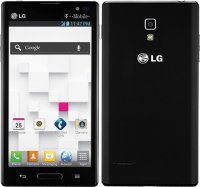 LG Optimus L9 II is now official, after being spotted in leaked images earlier this week.
The South Korean handset maker has apparently announced the LG Optimus L9 successor in Netherlands. However, the company has not revealed the pricing details of the device yet. A Dutch site that first reported the launch adds that the handset will go on sale in October.
The LG Optimus L9 II features a 4.7-inch True HD IPS display. The device is powered by 1.4GHz dual-core processor. It packs in a 2150mAh battery and also includes Infrared transmitter for Quick-Remote that enables a phone to function as a remote control. The LG Optimus L9 II's front panel does not house a physical button but includes three capacitive buttons beneath the screen for Back, Home and Settings.
The site also notes that the company has also unveiled the LG Optimus L4 II and LG Optimus L1 II for the Dutch market. These handsets have already been launched in other markets.