HTC One release confirmed for C Spire Wireless
12 Jun 2013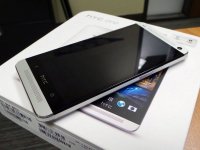 C Spire Wireless has become the latest US carrier to announce the HTC One. The one catch as of now, the carrier has revealed little in terms of detail aside from the fact that the handset will be coming. Basically, C Spire Wireless has chosen to keep the release date and the price a secret for now.
The details were posted in the C Spire Circle discussion forums where they mentioned that "the new HTC One is coming to C Spire." Otherwise, the only other bit released today was how they intend to "share more details in the near future." Otherwise, C Spire Wireless appears to have a growing lineup of quality handsets.
There are some older model handsets such as the Samsung Galaxy S II (for $59.99) as well as the Motorola PHOTON Q 3G for $9.99. Of course, looking at some higher-end devices and the carrier also has the Galaxy S III which sits priced at $79.99. Keep in mind, all of these prices assume a two-year agreement.