HTC One launches in glamour red, arrives in the UK next month
28 Jun 2013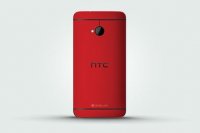 Flush from launching in the US in a Google-heavy iteration, HTC is rewarding its UK fans with a sultry "glamour red" option of the One smartphone. It'll arrive at retailer Phones 4U in mid-July, although there's no specifics yet on storage (16 or 32GB?), or whether there will be any price difference between the new colorful hue and existing silver and black options.
Update: Phones4U has confirmed it'll be selling this boudoir of a phone starting at £33 per month on contract.
THE HTC ONE® LAUNCHES IN GLAMOUR RED

LONDON, June 27, 2013 - HTC, a global leader in mobile innovation and design, today announces that the award-winning HTC One will be available in a distinctive, new colour. Available exclusively to customers of Phones 4u from mid-July, the new HTC One in Glamour Red packs the blistering performance and premium features that have garnered global acclaim since its launch earlier this year, into a body that makes a striking yet sophisticated statement.