HTC One 4G Sells 1.2 Million Units in May
16 Jun 2013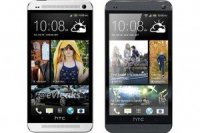 May was the first full month of availability for the HTC One 4G Android smartphone in the United States. The flagship HTC smartphone has been well received by both analysts and mobile handset shoppers alike, and recent evidence shows that since its debut the HTC One has delivered the smartphone manufacturer's highest sales figures for nearly 11 months. Citigroup Global Markets analyst Kevin Chang says his research leads them to believe that 1.2 million HTC One smartphones were sold this May, and he went on to state in a recent interview that he expects at least that many to be sold in June as well.
The HTC One 4G is available for a reduced sale price now starting at $79.99.
That one month sales number for the HTC One is better than any handset that HTC has released going all the way back to June of last year. That 1.2 million units figure is up a full 100% from April numbers, and some analysts have tagged it the "best Android phone ever designed." What is even more impressive regarding the sales in April and May is the fact that HTC dropped the ball, and suffered some supply issues when the handset first launched. These numbers could be substantially higher, and point to continued sales support in the future now that the smartphone manufacturer has its supply issues remedied.