How to use external storage to expand unexpandable Android phones
14 Oct 2013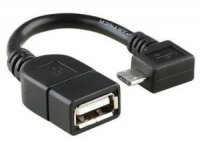 If you own an HTC One or another Android model that lacks a microSD slot, you can still add extra storage. Here's how.
The HTC One? Nice phone, no question. But it's lacking a key feature: a microSD expansion slot.
That's a bummer, as expandability has long been one of the big advantages of an Android phoneover an iPhone. (The other is a removable battery, which the One also lacks, but that's a topic for another day.) Does that mean owners of slotless Android phones like this one are stuck with a fixed amount of storage?
Not necessarily. Thanks to a USB specification called USB On-the-Go (OTG for short), you can add more storage just by plugging in a flash drive. Well, OK, there's a little more to it than that. Here's how to expand an "unexpandable" Android phone.
Step one: Because you can't plug a full-size USB flash drive into a microUSB port, you'll need an adapter cable -- specifically a USB OTG cable. You can find these for as little as $3, sometimes less, on Amazon and eBay. Here's one that, as of press time, was selling for $1.47 shipped. (Impossibly, it ships from Hong Kong, meaning it could take a couple weeks to arrive. But how does that price even cover shipping costs?!)
Step two: Fill a flash drive with music, videos, photos, documents, and/or other media you'll want to access on your device. The USB OTG solution is particularly great for bringing extra music and movies on a trip, especially if you're already low on on-device storage.