Google Nexus 6 a challenge to smartphones
14 Oct 2014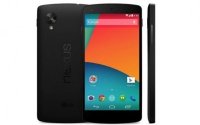 Google Nexus 6 a challenge to smartphones
Google goes to unveil a new Android Smartphone as Google Nexus 6. Google Nexus 6 is really a challenge to other smartphones and a gift to the smartphone users.
It has 5.9 inch display that is greater than the latest version of Apple iPhone 6, Samsung Galaxy Note 4, etc.
Google Nexus6 is expected to launch on October, 2014. At same day Google may introduce the new Nexus Tablet with the rumored Nexus 9. Nexus 9 offering 8.9 inch display with quad-HD display and a super Tegra K1 mobile processor.
Google Nexus 6
Display: 5.9 inch QHD
OS: Android 5.0 L
Camera: 13 MP with OIS
Battery: 3,200 mAh
Processor: 2.7 GHz Snapdragon 805 (quad core)
Ram: 3GB
Price and availability in Dubai, UAE: Google Nexus 6 is expected to launch on October, 2014. We will update the latest information about this mobile phone soon.