Google Acquires Bump Mobile App
17 Sep 2013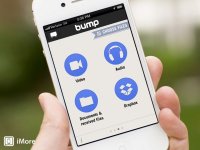 Google GOOG -0.17% has acquired Bump, a mobile app that was one of the early hit mobile apps but never became a big business.
Financial terms of the deal were not disclosed.
Founded in 2008, the company raised about $20 million from top investors including Sequoia Capital, SV Angel, Felicis Ventures and Andreeessen Horowitz after going through the Y Combinator incubator.
The app was designed to let people share contact information by just bumping their phones together. The company also evolved to let people share things like photos through bumps. Later it launched a second app called Flock for group photo sharing.
"We strive to create experiences that feel like magic, enabled behind the scene with innovations in math, data processing, and algorithms," CEO David Lieb wrote in a blog post. "So we couldn't be more thrilled to join Google, a company that shares our belief that the application of computing to difficult problems can fundamentally change the way that we interact with one another and the world."