Gitex Shopper opens tomorrow, offering discounts on over 30,000 gadgets
04 Oct 2013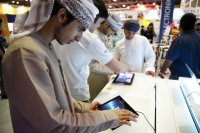 Emax confirms up to 25 per cent discounts: CEO Neelesh Bhatnagar
Date: Saturday, 5th - Saturday, 12th October 2013
Time: 11am to 11pm
Duration: 8 Days
Venue: Dubai World Trade Centre
The region's biggest retail expo for IT and electronics starts on Saturday, October 5, when Gitex Shopper 2013 opens its doors for visitors at Dubai World Trade Centre.
Unrivalled prices on over 30,000 different up-to-the minute gadgets, bundled deals and an array of exciting competitions has set the stage for the best Gitex Shopper yet.
Running for eight days, from October 5 to 12, the Middle East's largest and most anticipated consumer IT and electronics show will offer unbeatable deals on gadgets that include digital SLR cameras, smartphones, tablets, laptops and LED SmartTVs, while a broad range of exciting, ingenious and wacky gizmos and accessories are being added to bundled deals.
Visitors to Gitex Shopper 2013 will be delighted with the central location of the show, which enjoys a dedicated Metro station just steps away from the show. Ample parking, a smorgasbord of food and beverage outlets and a range of interactive and entertaining activities will add to the festival atmosphere at the show.
Regional power retailers including Al Falak, E-City, Emax, Geekay, Harman House, iStyle, Jacky's Electronics, Jumbo Electronics, MK Trading, 050Telecom, One Mobile, Plug-Ins, Sharaf DG, Tarsam and Tec Buy, as well as top world brands such as Samsung, the platinum sponsor for Gitex Shopper 2013, Acer, Bose, Blackberry, Dell, Intel, HP, Nestle, Bose, Nokia, LG, Toshiba, Seagate and Western Digital are determined to offer the best deals possible to the tens of thousands of visitors visiting the show each day.