Exclusive leaked HTC One Mini
13 Jun 2013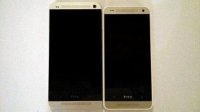 The HTC One Mini has leaked online again, with the reduced size and spec HTC One smartphone released sometime this summer.

According to "two people familiar with the matter", HTC is looking to release the HTC One Mini sometime this summer as a Samsung Galaxy S4 Mini competitor.

Reducing the HTC One's 4.7-inch Full 1080p HD display to a 4.3-inch 720p HD affair, the HTC One Mini will go on sale in August, if the information from the Bloomberg sources is correct. This August release date has been tipped before, so the HTC One Mini release date rumours seem strong in this respect.

The handset will also pack a less powerful Qualcomm processor, potentially dual-core, rather than the quad-core 1.7GHz Qualcomm Snapdragon 600 offered in the One.

From the leaked HTC One Mini pictures that appeared online last week, the reduced-spec handset seems to continue the brushed aluminium finish seen on the HTC One.

Latest rumours also suggest the HTC One Mini will have 16GB of internal storage and 2GB of RAM to support that smaller processor.