Etisalat announces more registration options to facilitate MNP
30 Dec 2013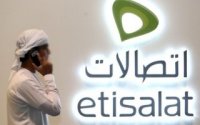 Both prepaid and postpaid customers can benefit from its infrastructure
Etisalat on Sunday announced the multiple channels that it has launched to ease the customer registration process with regards toMobile Number Portability (MNP).

Etisalat has launched a toll-free number, 80099, to handle queries ahead of MNP implementation. In addition, specially trained customer care representatives have been posted at sales centres to support requests related to subscription of Etisalat's services. New customers can also register for mobile numbers online and choose to get their new SIM card delivered to their doorstep.

Etisalat, the leading telecom operator in the U.A.E., is technically ready for implementation of Mobile Number Portability, in accordance with all requirements and guidelines set by the Telecom Regulatory Authority. Etisalat will enable both prepaid and postpaid customers to subscribe to its services and benefit from its superior infrastructure, the widest network coverage, competitive prices of voice and data packages and roaming offers in 190 countries with more than 680 roaming partners.